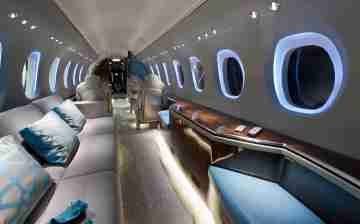 Cessna Aircraft announced it would offer a 'stretched version' of its midsize Citation Latitude at the 2012 European Business Aviation Convention & Exhibition (EBACE). The new, super midsize Citation Longitude will be the largest Citation aircraft attempted since the termination of its Columbus 850 development program in 2009.
The super-midsize Citation Longitude will feature the same fuselage cross-section, windows, passenger seats and aluminum construction as the smaller Latitude. However, the Longitude will be nine feet longer, have a 31-foot long cabin, and enough room for up to eight passengers. The Longitude also boasts an upscale interior design. The cabin itself will feature a large forward galley, full aft lavatory with vacuum-flushing toilet, full berthing seats that also swivel, and an entertainment center with a large flat-screen monitor.
The Longitude will compete with the Embraer Legacy 650 and the Bombardier Challenger 605. The aircraft is expected to make its first flight in 2016 and Cessna foresees that it will earn FAA certification in 2017.