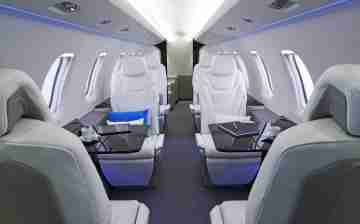 Switzerland's Pilatus Aircraft Ltd., is bringing 'super versatility' to the light jet sector of private aviation with its new Pilatus PC-24 aircraft. The Swiss aircraft manufacturer announced the launching of the Pilatus PC-24 at the 2013 European Business Aviation Convention & Exhibition (EBACE). The first production of the PC-24 began in August of 2014, its first flight is planned for May 2015, and its first deliveries are set for 2017.
Pilatus says the PC-24 will be able to land at an additional 1,300 airports around the world, and has been designed to takeoff and land on much shorter surfaces. The PC-24 also boasts the ability to land on virtually any kind of surface including, grass, snow, sand, gravel and even ice. This feature will make it an ideal aircraft to takeoff and land in regions such as Africa, the Middle East and Central Asia, where most jet aircraft are incapable of landing.
The Pilatus PC-24 is very spacious for a light jet, with a cabin measuring 501 cubic ft. and 51 cubic ft. of baggage space. The partition that separates the passenger cabin and baggage compartment can be easily removed to increase the amount of cargo for each flight. The aircraft has a maximum range of 1,950 nm, which is slightly more than the Phenom 300, but less than the Cessna Citation CJ4.
With its superior versatility, it can be quickly reconfigured to carry six to eight passengers in an executive layout or up to 10 passengers in a commuter layout. The executive layout boasts soft leather seats and hardwood cabinetry.The cabin can also be configured for emergency services, and used as an air ambulance aircraft. With 13 large, cabin windows the PC-24 provides its passengers with a light and airy feel inside the cabin.