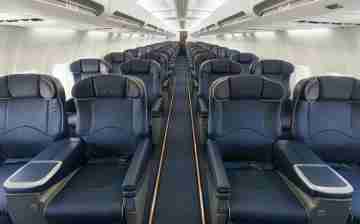 Privé Jets understands how difficult it could be for you to plan air travel for a large group of passengers. Whether you and your group are traveling for business or pleasure, Privé Jets stands ready to provide you with an aircraft that meets all your needs.
So, when it comes to chartering a private jet charter flight for larger groups, you will find the most comfort in flying in a large-cabin aircraft. Large-cabin aircraft can typically seat anywhere from 10 to hundreds of passengers. These aircraft are generally classified as a heavy jets, ultra long-range jets, or VIP airliners. Each one of these types of aircraft can differ in their performance. However, most large-cabin aircraft are able to provide non-stop travel to and from almost anywhere.
When deciding which aircraft to fly in, you should consider what is really important to you and your fellow passengers. When planning your private jet flight, ask yourself the following questions:
Would we like to fly non-stop?
Would we like to have in-flight catering?
Do we want Wi-Fi or other forms of in-flight entertainment?
How much luggage can each passenger bring onboard the aircraft?
So, before you request a quote, try to determine what is most important to you and your fellow passengers. This will save you a lot of time when you call your Privé Jets account executive to book your flight.