AIR AMBULANCE
CHARTER
AIR MEDICAL EVACUATION TRANSPORTATION SERVICE IS AVAILABLE AROUND-THE-CLOCK TO RESPOND TO YOUR MEDICAL NEEDS
Privé Jets provides air ambulance charter service worldwide. If you have a medical emergency that requires in-flight medical care, we are able to offer urgent assistance in arranging an air ambulance equipped with specialized medical personnel and equipment to ensure a rapid, safe and comfortable transfer experience to the medical facility of your choice.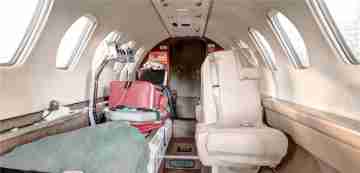 COMPREHENSIVE AIR MEDICAL
TRANSPORT SERVICE & PATIENT CARE
Privé Jets makes it possible for patients and individuals with delicate medical conditions to arrive closer to medical centers or an FBO that is closer to home, while eliminating the hassle and stress of commercial airports. Our private air ambulance charters can arrange transfers from bed to bed, ensuring full patient comfort and safety at all times.